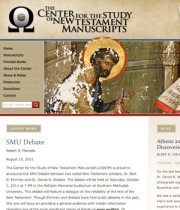 As a follow-up to our post about the Digital Dead Sea Scrolls Project, here are some additional places on the internet where you learn more about the Bible's transmission, along with images and other resources.
As a parenthesis, let me urge all Bible teachers and preachers to become familiar with how our Bible came to us. Critics speak as if the origins of our Bible text are questionable or doubtful. An overwhelming amount of evidence shows just the opposite. Learn the facts and strengthen the faith of those who look to you for instruction!
The Center for the Study of New Testament Manuscripts (CSNTM) is dedicated to digitally photographing as many New Testament manuscripts as possible both to preserve their images for future generations as well as to make them accessible for study. Headed by Dr. Daniel Wallace, Greek scholar and Bible translator, their website is a growing project with much material now available and much more anticipated in the future. In addition they have a physical where visitors can come in a personally see some of their work. Also available are 25 videos on iTunesU, a free area of the Apple iTunes website devoted to education. Short videos on textual criticism, disputed passages, how early manuscripts were created, etc. are available.
The Codex Sinaiticus Project provides his resolution images of every page of one of the most important early Bibles. This is especially valuable because the original codex (book) is divided up among 4 different museums in four different countries and does not physically exist any longer as one book.
British Library Digitized Greek Manuscripts – 284 lesser known and otherwise inaccessible early Greek manuscripts, both biblical and classical.
NT Resources by Rodney J. Decker, Th.D. is an extensive list of links to internet resources for the study of Greek, manuscripts, translation, and more.
Bible Researcher provides information and resources for both Old and New Testament textual studies.
BibleWorks 9 Software now incorporates actual images of early manuscripts next the the Greek text and English translations – a real innovation I have not seen anywhere else.