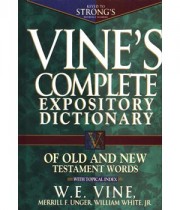 Vine's Expository Dictionary of Old and New Testament Words should be one of the most treasured books in any serious Bible student's library. It has gone through numerous editions since its introduction around 1940. More recent editions have added Old Testament words to the original New Testament only version. My first mentor, James Wilson, introduced me to the use of this resource. Later, we hope to produce a good tutorial on the use of Vine's (as it is often called), but for now, here are some of the great benefits of using this book properly (Greek section):
Discover the Greek word behind the English word (Vine's is based on the ASV)
See the range of meaning of the Greek word, usually dictated by the context
See how translators often used one English word for different Greek words
See how one Greek word may have been translated with different English words
Easily see which basic part of speech the Greek word is – noun, adjective, verb, etc.
Realize how challenging the translation process is from Greek to English (and give Bible translators a break!)
Help either confirm or refute various arguments by some based solely on the English word in a context
Take advantage of the Strong's numbering system to use Strong's, Thayer's, and other resources
Now, to get the best use of Vine's it is valuable to also have a good Greek-English interlinear. I much prefer one that includes Strong's numbers along with the actual Greek text and the KJV (since I am unaware of any ASV interlinear New Testaments).
Go to our
Effective Bible Study course
and listen to Lesson 13 to learn more about how useful Vine's can be. Newer expository dictionaries are now available, but once you learn to use Vine's you can comfortably switch to one of them if you wish.