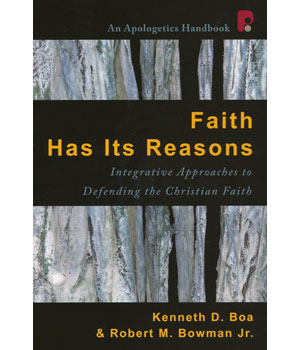 Dr. Kenneth D. Boa and Robert M. Bowman are two respected Christian apologists. In 2001 they co-edited and contributed with others to the writing of a 658 page book on apologetics entitled, Faith has Its Reasons.
Now they have made two digital versions of this book available for free download. The book includes a history of Christian apologetics, presentation of the four major approaches to apologetics, reviews of the major apologists past and present, an extensive bibliography and resource section and more. This is a great addition to my library.
Faith Has Its Reasons can be purchased in paperback or in ePub format (Nook and iPad compatible) from www.christianbook.com. But for a free download of the book in either Microsoft Word or Adobe PDF format, follow these links: for Word (.doc) go here; for PDF go here. After downloading your preferred file format, look around on these two websites. A great amount of other useful reference material is also available free.