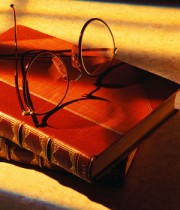 In Part I, I selected a theme and identified some key parts of the teaching series I wanted to present. Now it was time for step two: gathering research resources.
Resources for me come from several sources:
My already existing personal library. I do a quick survey of what I have.
Input from fellow instructors and teachers. I share my intended subject with a few trusted and experienced co-workers and ask what they would use for resources.
Visit the local Christian bookstores (Mardel's) and Sunset Extension School Bookstore, and online bookstore (Christian Book Distributors). (See my earlier series on Finding Good Books at Bargain Prices.)
Take note of reference works quoted or footnoted in the reference works I already have.
Here are the resources I ended up using, broken into two categories. Remember the overall subject matter is "A Shadow of Good Things to Come," focusing on OT predictions, practices, events and types of Christ.
Sources I found ESSENTIAL:
Sources I found very USEFUL:

Light Before the Son, by Julianna Treadwell. Published by Navpress, copyright 2002. (Apparently out of print at this time.) Fictional stories based on biblical background information. Really stimulates the imagination and understanding. Look at some of the chapter titles

The Lamb: Jesus in the Feast of Passover
The Seed: Jesus in the Seed of Eve and in the Seed of Abraham
The Refuge: Jesus in the Cities of Refuge and in Isaiah 53
The Dwelling Place: Jesus in the Temple

Listening to the Language of the Bible, by Lois Tverberg and Bruce Okkema. Published by En-Gedi Resource Center, copyright 2004.
The Outpouring, by Elwood McQuaid. Copyright 1990 and published by The Friends of Israel Gospel Ministry. Focuses on the major role that the Jewish feasts played in the Gospel of John. To me, this was fresh thinking. I had never noticed before how much of John's Gospel was tied to Jesus at the Feasts.
No doubt there were numerous other books, articles and websites that provided some of the resources I used (but which I have forgotten). Most of all I read and examined the Bible itself, comparing NT references to OT passages and events tied to Jesus.
Next article, the lesson titles themselves as I taught them.
Article updated August 23, 2011.