Seeing Jesus in the Feasts of Israel is a series of 7 sermons examining the seven holy festivals appointed by God for the Jewish people in Leviticus 23:1-44. Each feast was a visual, prophetic foreshadowing of some aspect of the life and work of Jesus Christ. This study was part of a larger, 26 lesson study entitled A Shadow of Good Things to Come – Seeing Jesus in the Old Testament. These lessons were recorded live between November, 2006 and May, 2007 at the Tanglewood Church of Christ.Richard Cravy is an evangelist and an elder with the Tanglewood Church of Christ is Odessa, Texas. He has been a preacher and teacher of the Gospel since 1970. He is also on the staff of the Sunset International
Bible Institute in Lubbock, Texas.Lesson 1: Jewish Holy Days and Jesus
Lesson 2: Our Passover Is Sacrificed for Us (Passover)
Lesson 3: Christ, the Firstfruits (Unleavened Bread & Firstfruits)
Lesson 4: God Has Provided (Pentecost)
Lesson 5: Sound the Trumpets (Feast of Trumpets)
Lesson 6: The Blood Sprinkled Mercy Seat (Day of Atonement)
Lesson 7: The Jewish Thanksgiving (Feast of Tabernacles)
INCLUDED WITH PURCHASE
of
Seeing Jesus in the Feasts of Israel
audio CD set is
Feasts & Holidays of the Bible
Chart by Rose Publishing, which normally retails for $3.00.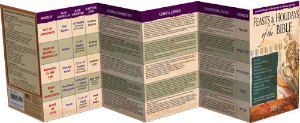 Feasts & Holidays of the Bible
God commanded the Children of Israel to observe these feasts and holy days as memorials to the great things that he had done in their lives. These are holidays that Jesus observed all through his life. See how these special days point to Jesus as the promised Messiah. Includes Hebrew lettering, pronunciation, Jewish calendar, symbolism, and Bible references for the feasts and New Testament fulfillment. Pamphlet is 8.5″ x 5.5″ and unfolds to 33″ long.