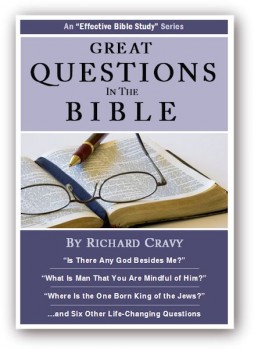 PRICE: $25.00
The Great Questions in the Bible audio series features 9 lessons taught by Richard Cravy before an audience at the Tanglewood Church of Christ in Odessa, Texas in 2009. The series features one "great question" in each lesson and also includes an introductory lesson.
The 9 lessons are:
"Is There Any God Besides Me?" Isaiah 44:6-8
"What Is Man, That You Are Mindful of Him?" Psalm 8:3-4
"Where Is the One Born King of the Jews?" Matthew 2:1-2
"What Can a Man Give in Exchange for His Soul?" Matthew 16:26
"What Must I Do to Be Saved?" Acts 16:25-30
"Which Is the Greatest Commandment?" Mark 12:28-31
"Do You Believe I Am Able?" Matthew 9:27-30
"Shall We Go on Sinning?" Romans 6:1-4
"What Kind of People Ought You to Be?" II Peter 3:10-13
A total of nine (9) lessons on five (5) audio CDs. in an attractive album.
PRICE: $25.00