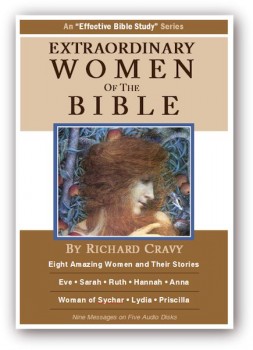 PRICE: $25.00
The Extraordinary Women of Bible audio series features 13 lessons taught by Richard Cravy at the Sunset Church of Christ in Lubbock, Texas in 2011.The emphasis is on the unique roles women have played in God's scheme of redemption.
Biblical women – drawing water at a well, living in tents, herding sheep – can seem completely foreign to our modern culture. But, in fact, they have much in common with us. Made in the image of their Creator, they have the same positive (and negative) traits we have; and they struggled to do the right thing and have the right heart in often challenging circumstances. On the other hand, the corruption of that divine image could lead to great evil. We have much to learn from them all. Welcome to our study of some of the Extraordinary Women of the Bible!
The 13 lessons are:
Lesson 1: Extraordinary Women – Introduction Lesson
Lesson 2: Eve – Mother of All Living
Lesson 3: Sarah – Hope Against Hope
Lesson 4: Rahab – She Believed
Lesson 5: Ruth – Your God Will Be My God
Lesson 6: Jezebel – Notorious Wickedness
Lesson 7: Esther – For Such a Time as This
Lesson 8: Mary – The Lord's Mother, Part I
Lesson 9: Mary – The Lord's Mother, Part II
Lesson 10: Woman of Sychar – Come Thirsty
Lesson 11: Priscilla – A Missionary Heart
Lesson 12: Lydia – An Open Heart
Lesson 13: The Most Extraordinary Woman in All the Bible
A total of 13 lessons on audio CDs. in an attractive album.
PRICE: $25.00