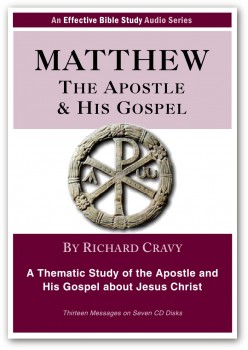 PRICE: $25.00
1. Matthew, the Man and Disciple – Matthew's background and time as Jesus' disciple.
2. Matthew, the Book – Examining the authorship, history, purpose and plan of the book.
3. The Hope of Israel Has Come – Historical events surrounding the birth of the Christ.
4. Jesus, the Anticipated King – Jesus as the fulfillment of Old Testament prophecies.
5. The Lawgiver King – The Sermon on the Mount and other teachings of Jesus.
6. The King Demonstrates His Power – Jesus reveals His power and authority in miracles.
7. The King and His Men – Jesus selects twelve, whom He called "apostles."
8. The King Greater Than Solomon – Jesus as the Greater "Son of David."
9. Here Is the Kingdom! – Jesus reveals the nature of the Kingdom of which He was king.
10. The Enemies of the King – Rising opposition to Jesus and His kingship.
11. The Suffering Servant King – Rejected and crucified, Jesus fulfilled key prophecies.
12. Long Live the King! – Resurrection! The ultimate demonstration of His everlasting reign.
13. The King Says, "Go!" – The King's ambassadors are sent to all the nations.
Click here to download and view the Matthew Syllabus.
PRICE: $25.00