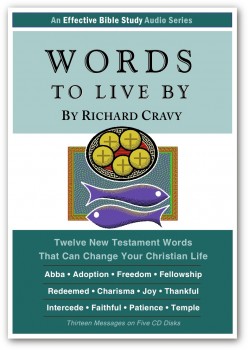 PRICE: $25.00
1. Introduction: God's Chosen Words – God worked through His inspired men to use the
exact words He wanted to communicate His message to us.
2. Abba – the word a child uses to address his loving father.
3. Adoption – giving the place and privileges of a son to one to whom it does not naturally
belong.
4. Freedom – released from slavery or bondage and granted all the rights of free men.
5. Fellowship – in a relationship of partnership and joint participation.
6. Redeemed – released on receipt of a ransom or redemption price.
7. Charisma – gifts from God because of His grace.
8. Joy – the delight, gladness and pleasure coming from experiencing God' grace.
9. Thankful – the response to God for His grace experienced.
10. Intercede – to petition the King on behalf of another.
11. Faithful – always acting in a trustworthy and reliable way.
12. Patience – longsuffering toward others; being merciful rather than vengeful.
13. Temple – God's holy sanctuary, describing both the church and the Christian's physical
body.
PRICE: $25.00