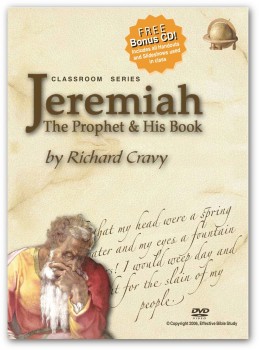 PRICE: 49.99
18 hours on 7 DVDs plus bonus CD of class materials.
See God at work among the nations of mankind
Discover the effects that false and shallow religion, and moral and ethical corruption, have on a country.
Be convicted to preach, minister and care for the lost like God's man, Jeremiah.
CLASS OBJECTIVES
1. Learn the background to the prophet and his book: personal life, historical, political and religious.
2. Study Jeremiah's prophetic ministry, his commitment, and his love for both his people and for God's righteousness.
3. Identify the various sections of the book, and study each in an orderly fashion.
4. Explore the influence and impact of the prophet and his book on other Old Testament writings and on the New Testament.
BACKGROUND OF THE BOOK:
LESSON 1: Introduction & overview of book; our methodology of studying the background and context
LESSON 2: Jerusalem: the geographical setting of Jeremiah
LESSON 3: Solomon's Temple & the Jewish religion of Jeremiah's day
LESSON 4: Corrupted religion & idolatry – the nation's downfall
LESSON 5: The world of Jeremiah: Assyria, Babylon, Egypt, Judah
LESSON 6: The Throne of David; the last kings of Judah
STUDY OF THE BOOK:
LESSON 7: The Messiah as David's descendent. The last kings of Judah continued. Jeremiah's personal background and his calling and commission
LESSON 8: Organization and characteristics of the book; the nature of Jeremiah's teaching and ministry
LESSON 9: The Sermons and Messages of Jeremiah, Part I: chapters 1-9
LESSON 10: The Sermons and Messages of Jeremiah, Part II: chapters 13-17
LESSON 11: Historical Section I: chapters 18-21
LESSON 12: Challenge of re-arranging Jeremiah into chronological order; Historical Section II (chapters 22-31)
LESSON 13: Oppression and siege by Babylonians; prophecies of the future hope (chapters 32-34, 37-38)
LESSON 14: The nation and city fall; more prophecies of the future; a remnant flees to Egypt (chapters 39-43)
SAMPLE VIDEO
PRICE: 49.99