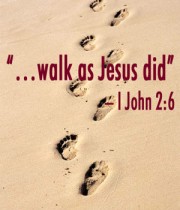 Perhaps the most popular book of Christian fiction ever written is In His Steps, by Charles Sheldon. Written in 1897, over 30 million copies have been sold according to Wikipedia. Its premise revolves around a church which tries to answer the question, "What would Jesus do?" in their interaction with each other and within their community.
This past summer, Charley Huffman of the Sunset Church of Christ taught for 13 weeks on this topic. Charley and his wife (and their son and his family) are long-time missionaries to Brazil.
In this series Charley discusses the practical implications of discipleship, and being caring and evangelistic like Jesus was. He has generously given us permission to offer his 13 lesson outlines on EffectiveBibleStudy.com. Right CLICK HERE and select "Save Link" to download, or go over to our FREE RESOURCES section.