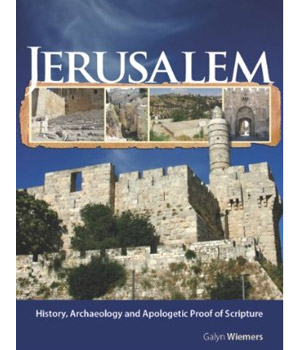 In doing a recent series of lessons on the city of Jerusalem throughout the Bible, I cast a wide net to find resources of a historical, geographical, and archeological nature concerning this great city in the Old and New Testaments. One very valuable resource has been a free (for download) 250 page book written by Galyn Wiemers from www.generationword.com. Entitled, "Jerusalem: History, Archeology and Apologetic Proof of Scripture," it contains over 500 photos, maps and charts along with much explanatory text. Most or all the photos seem to have been taken by Mr. Wiemers during visits to Jerusalem. In addition to the free book, he has made available most/all the photos for download in color from his website as well. He also has provided over 270 Old Testament maps for free download. He has granted permission for the use of this material when used in Bible teaching. Here are the links to get these great resources:
Jerusalem book and photos link
Be sure to look around his website for four additional free books, Bible study materials, hundreds of audio lessons, and more. Mr. Wiemers is a teacher and minister in the Evangelical Free Church, so will no doubt differ from me in his understanding of some points of Scripture. However, overall I am very impressed with his materials.