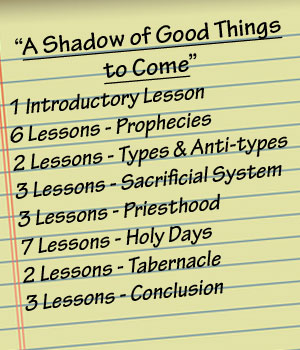 Having a theme and resources for my series, now came the execution. There was no shortcut for reading, research, note-taking and "assembling" all my material into individual lessons. Ultimately well over 100 hours of research, study and organizing took place. The final series, which I entitled "A Shadow of Good Things to Come," consisted of 27 separate lessons, each delivered during the Sunday morning service at the Tanglewood Church of Christ in Odessa, Texas.
Here is how I ultimately laid out the series:
6 Lessons on Jesus in Prophecy
2 Lessons on Jesus in Types
3 Lessons on Jesus and the Sacrificial System
3 Lessons on Jesus as Priest
7 Lessons on Jesus in the Holy Days of Israel
2 Lessons on Jesus in the Tabernacle
             3 Lessons in Drawing Conclusions
If you still have an interest in this topic:
Here is a free Adobe Acrobat file containing the titles of the 27 lessons and a brief summary of each. Click here to open and download.
The 7 lessons on "Jesus in the Holy Days of Israel" are available as a set of 4 audio CDs. E-mail me for price.
(Some have asked for copies of my actual outlines. At the present time I do not have those in a downloadable form. I do hope in the future to make them available on this website.)
Article last updated August 25, 2011.