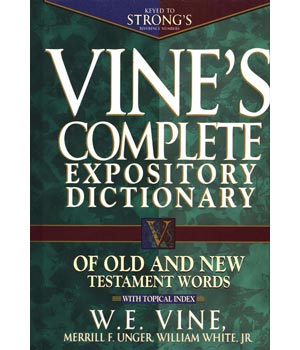 Vine's Expository Dictionary of Old and New Testament Words should be one of the most treasured books in any serious Bible student's library – it certainly is in mine. (Note that EBS may earn a small commission off any merchandise purchased through links on this page.) It has gone through numerous editions since its introduction around 1940. More recent editions have added Old Testament words to the original New Testament only version. My first mentor, James Wilson, introduced me to the use of this resource before I had even decided to be a preacher of the gospel. Here are some of the great benefits of using this book properly:
Discover the Greek or Hebrew word behind the English word (Vine's is based on the KJV)
See the range of meaning of the Greek or Hebrew word, usually dictated by the context
See how translators often used one English word for different Greek and Hebrew words
See how one Greek or Hebrew word may have been translated with different English words
Easily see which basic part of speech the Greek or Hebrew word is – noun, adjective, verb, etc.
Realize how challenging the translation process is from two ancient languages to English is (and give Bible translators a break!)
Help either confirm or refute various arguments by some based solely on the English word in a context
Take advantage of the Strong's numbering system to use Strong's, Thayer's, and other resources
Now, to get the best use of Vine's it is best to also have a good Greek-English interlinear Bible. I much prefer one that includes Strong's numbers along with the actual Greek text and the KJV as this corresponds most closely to what the Vine's dictionary is based on. Go to our Effective Bible Study course and listen to Lesson 13 to learn more about how useful Vine's can be. Newer expository dictionaries are now available, but once you learn to use Vine's you can comfortably switch to one of them if you wish. No doubt more scholarly and detailed Greek and/or Hebrew lexicons and dictionaries are available. But none are as widely available, easy to master and use and convenient for quick reference as the Vine's Expository Dictionary.
Most Bible software programs such as e-Sword, Logos, and Olive Tree offer digital versions of Vine's. App versions are available in both iOS (Apple) and Android app stores, and ebook versions are in the Amazon Kindle, Apple Book, and Google Play Book stores.